The ElleUS June 2012 Issue officially hits newsstands on May 22nd. NYC and LA will see the cover on shelves this week. Pick up your copy!

HQ (via)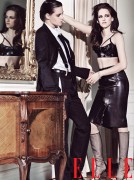 Elle: For this month's cover shoot, ELLE Creative Director Joe Zee and photographer Tom Munro celebrated Snow White and the Huntsman star Kristen Stewart's versatility as they styled her as both a woman and a man. On a crisp Los Angeles morning, Stewart arrived at Milk Studios with an infectious enthusiasm that never waned as she channeled the dual characters, drawing inspiration from stylish trailblazer Loulou de La Falaise as well as Helmut Newton's provocative photographs. Stewart played up her androgynously chic side, effortlessly navigating Balenciaga's menswear-inspired looks and luxuriously feminine pieces from Prabal Gurung and Jason Wu. To achieve full glamour for the female role, makeup artist Jillian Dempsey crafted a soft, smoky eye with a variety of powder and cream shadows; for the masculine shots, Dempsey accentuated Stewart's brows and used contour for chiseled cheekbones. Between breaks on set—an opulent French hotel bedroom constructed exclusively for our shoot—Pantene Celebrity Stylist Danilo primped Stewart's locks with a leave-in conditioning spray, so that she was perfectly coiffed as she left for the day. Her next stop? Paris, for the Balenciaga show.
Source information: Elle Magazine |Scans
Behind-the-Scenes: Youtube (Via)

BTS Video (Click on image to go to source) [Via]

A Few Screencaps c/o kstewartfans.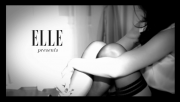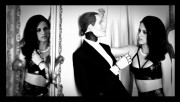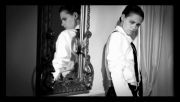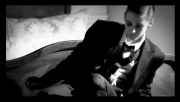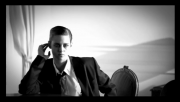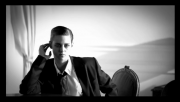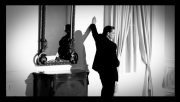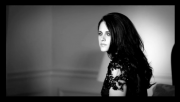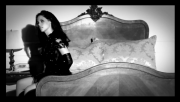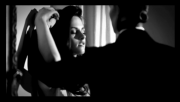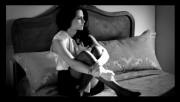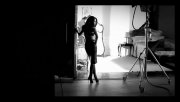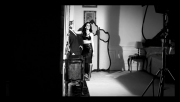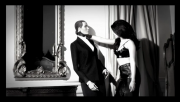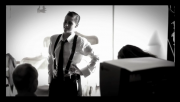 Transcript (via)
Winding her way through a forest of dead trees that have become books, Kristen Stewart is on the hunt for her next read, having just devoured Alberto Moravia's Contempt: "I loved it. Funny though, the movie is a comedy, but the book is so down." In black Keds, black skinny jeans, a dark hoodie, and a well-worn green tee, Stewart could pass for one of the literary hipsters working in this cozy Sunset Boulevard bookstore.
She runs a finger along the countless spines of potential suitors lining the tall, dark shelves – a tight maze of plot twitsts and turns – and stops at John Steinbeck. "East of Eden is my favorite, it's big, and then Cannery Row. I've read them all." Nestled next to Steinbeck is William Styron. "Have you ever read Lie Down in Darkness?" Stewart asks excitedly. "I want to play Peyton more than anything I can possibly taste or touch in my life. I want to play her so bad. Peyton is bright, beautiful, suicidal narcissist, preyed upon by her father. But Stewart, 22, sees it as more complicated than that. "Oh, dude, she fuckin' loves it! She's in love with him. I mean, I think she's in love with him. It's not his fault. They're the most fucked-up family!"
"There's a script adaptation I've read and it's good," she says, continuing down the aisle. "Two people vying for the part of the father are Daniel Day-Lewis and Colin Firth. Daniel would be perfect." Stewart stops suddenly and smiles, picking up an autobiography. "Let's not be pretentious – let's buy Snooki." (She doesn't.)
Head over to StrictlyRobsten for the full transcript
Kristen is wearing:
Ralph Lauren Fall 2012 RTW | Jason Wu skirt & silk charmeuse blouse Fall 2012 RTW

Lanvin Pre-Fall 2012 | Prabal Gurung Fall 2012 RTW  | Gucci Fall 2012 RTW

Tom Ford Fall 2012RTW Skirt & Croc Bra

She's also seriously working the menswear look in a Balenciaga suit and Gucci buttondown