Exclusive Pretty Ballerinas Collection "Snow White & The Huntsman" to premiere in June: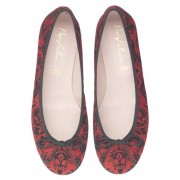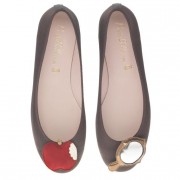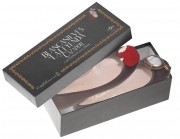 March 2012 (Madrid): In celebration of Universal Picture Spain's thrilling new rendition of Snow White coming out this summer, "Snow White & The Huntsman", Pretty Ballerinas designed an exclusive collection of ballerina flats inspired by the prominent figures of the movie.
"Snow White" has always been one of Pretty Ballerinas's favorite stories by the Grimm Brothers. The movie features Charlize Theron as the evil queen, and Kristen Stewart as Snow White. The new and exciting version of the fairytale has inspired Pretty Ballerinas create this exclusive collection.
An elegant and special packaging is paired for the occasion. Eight inspired styles makes up the charming collection, here are a few favorites:
"Rosario Snow White Apple and Mirror" is a ballerina designed in chocolate satin and adorned with the two most significant symbols of Snow White: the bitten apple and the mirror. This model is also available for young princeses in the variant called "Hannah Snow White Apple and Mirror".

"Marylin Evil Red", is a model designed in a print of red tapestry adorned
with skulls representing the darkly soul of the evil queen.
The collection is an action marketing that will NOT be available in Pretty Ballerinas boutiques worldwide or on their website.
Information courtesy of Universal Pictures & Pretty Ballerinas